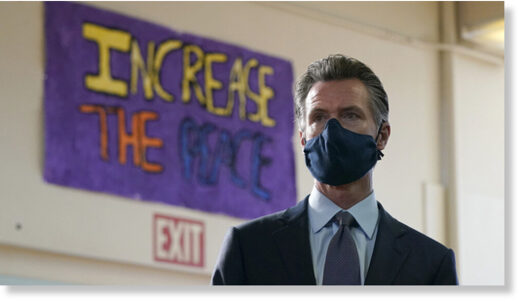 California Governor Gavin Newsom has come under fire for
delaying his own teenage daugher's Covid-19 vaccination while fuming at the lagging vaccination rate in those aged 12-17
, and pushing for the broad vaccine mandate.
Conservatives have been up in arms over the recent report that Newsom's 12-year-old daughter has yet to get her Covid-19 jab despite her father publicly encouraging parents to vaccinate their children
even though the Food and Drug Administration (FDA) has yet to fully greenlight the immunization
.
Newsom
told
the
Los Angeles Times
on Thursday that his daughter, who turned 12 last month, has not yet received the vaccine because she was scheduled for "a series of other shots." However, on Saturday, the
Washington Examiner
reported
that the governor's office told the publication that the 12-year-old would receive her Covid-19 vaccine shot "in a few days."
The revelation has prompted Newsom's detractors to accuse him of double standards. "So typical of Gavin Newsom. "Rules for thee but not for me!"" one critic
tweeted.