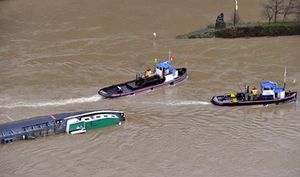 Berlin - A tanker loaded with sulfuric acid capsized early Thursday on the Rhine river in Germany and two crew members were missing, authorities said.
There was no immediate word on why the ship capsized, the shipping office in Bingen said. The other two crew members were rescued.
The ship, which overturned near St. Goarshausen, in western Germany, was carrying 2,400 tons of sulfuric acid. Initial measurements carried out downstream from the scene showed no abnormalities and there were no indications that the load was leaking, the shipping office said.
Authorities closed the river to shipping. They were working to secure the 360-foot (110-meter) long tanker, which was floating on its side, and to find the two missing crew members.
The German-owned ship was on its way from Ludwigshafen in southwestern Germany to Antwerp, Belgium.