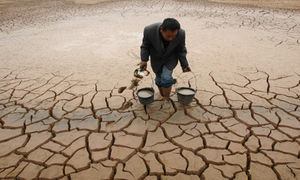 China's $2.85 trillion in foreign exchange reserves and the serious drought it is facing in its wheat producing north pose a serious danger to global food security, especially in the food importing developing world, according to an nytimes.com report Feb 8.
China's state media reported Feb 7 that the country's major wheat producing provinces in the north were facing their worst drought in 60 years. It also reported Feb 8 that Shandong Province, a cornerstone of Chinese grain production, was bracing for its worst drought in 200 years unless substantial precipitation came by the end of Feb'11.
But with $2.85 trillion in foreign exchange reserves, nearly three times that of Japan, the country with the world's second-largest reserves, China has ample buying power to prevent any serious food shortages, noted the nytimes.com report.
"They can buy whatever they need to buy, and they can outbid anyone," it quoted Robert S. Zeigler, the director general of the International Rice Research Institute in Los Baños, in the Philippines, as saying. That will obviously mean serious trouble for other developing food-importing countries.