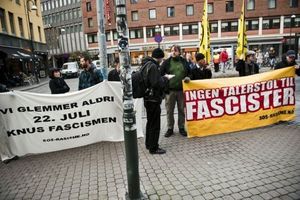 Anders Behring Breivik, who confessed to the massacre of 77 people in Norway in July, tried in vain to make a show of his first public court appearance Monday, but was blocked from addressing the families of his victims.
The Oslo district court ruled that Behring Breivik would remain in custody until February 6, when a new custody extension hearing will be held, and announced a possible trial start-date of April 16.
The 32-year-old rightwing extremist, wearing a dark suit, white shirt and light blue tie and sporting a narrow beard, asked judge Torkel Nesheim if he could speak to the families "for five minutes," but was turned down.
It was the first court hearing open to survivors, victims' family members, the media and the general public since the July 22 killing spree.
After the hearing, his lawyer Geir Lippestad, who had asked that his client be set free, said Behring Breivik had prepared a short note, but that he did not know what he had planned to say.