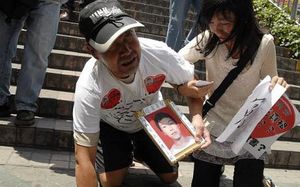 Foxconn, the Chinese maker of Apple's iPhone, is investigating the death of a packaging plant worker, following a string of 13 staff suicides at its factories earlier this year.
The 22-year old woman died on Wednesday after falling from a dormitory building at its Kunshan plant in eastern Jiangsu province, the world's largest contract electronics manufacturer said on Friday.
Thirteen Chinese employees have committed suicide this year at Foxconn plants and an affiliate by jumping from buildings, including 10 in the southern city of Shenzhen.
It was unclear whether the latest death was a suicide. The company said it was working with local authorities to investigate.
The suicides at Foxconn - which generates revenues of $40bn annually making everything from iPads to desktop computers and televisions - have put the spotlight on working conditions for millions of factory workers in China, the "workshop of the world".