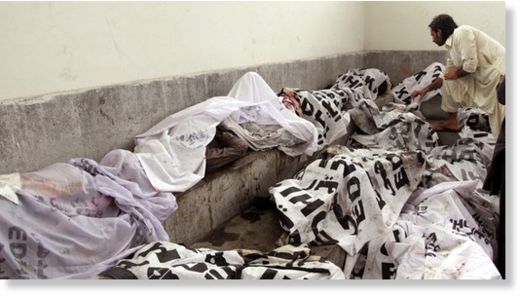 Karachi, Pakistan - Fire ravaged a textile factory complex in the commercial hub of Karachi early Wednesday, killing almost 300 workers trapped behind locked doors and raising questions about the woeful lack of regulation in a vital sector of Pakistan's faltering economy.
It was Pakistan's worst industrial accident on record, officials said, and it came just hours after another fire, at a shoe factory in the eastern city of Lahore, had killed at least 25.
Flames and acrid smoke swept quickly through the cramped textile factory in Baldia Town, a northwestern industrial suburb, creating panic among the hundreds of poorly paid workers who had been making undergarments and plastic tools.
They had few options of escape - every exit but one had been locked, officials said, and the windows were mostly barred. In desperation, some flung themselves from the top floors of the four-story building, sustaining serious injuries or worse, witnesses said. But many others failed to make it that far, trapped by an inferno that advanced mercilessly through a building that officials later described as a death trap.
Rescue workers said most of the victims died of smoke inhalation, and many of the survivors sustained third-degree burns. As firefighters advanced into the wreckage during the day, battling back flames, they found dozens of bodies clumped together in the lower floors.
One survivor, Muhammad Aslam, said he heard two loud blasts before the factory filled first with smoke, then with the desperate screams of his fellow workers. "Only one entrance was open. All the others were closed," he said at a hospital, describing scenes of panic and chaos.
Mr. Aslam, who was being treated for a broken leg, said he saved himself by leaping from a third-floor window.
Hundreds of anguished relatives gathered at the site, many of them sobbing and shouting as they desperately sought news. Some impeded the rescue operation, and baton-wielding police officers tried to disperse the crowd but failed.