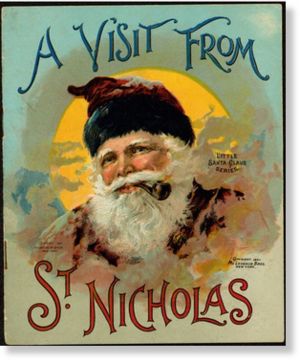 ''Twas the Night Before Christmas' gets a patch
Santa, dear Santa, don't say ho-ho-ho. Just say no-no-no.
To smoking, that is.
That is the plea of a Canadian entrepreneur, who has self-published an abridged version of "'Twas the Night Before Christmas," the poem also known as "A Visit from St. Nicholas" and "The Night Before Christmas."
First published anonymously in 1823, the poem is generally attributed to New York scholar Clement Clarke Moore (though at least one academic believes it was written by a distant relative of Moore's wife).
Generations of children have grown up reading this poem on Christmas Eve. It has inspired many of the ideas we hold about Santa, a "right jolly old elf" who drives a reindeer-powered sleigh full of toys and enters homes via chimneys to deliver those toys on Christmas Eve.
With its vivid rendering of Santa - his roselike cheeks, cherrylike nose, and a belly that shakes, when he laughs, "like a bowl full of jelly" - the poem is pure joy in verse form.
Alas, not everyone sees it that way.