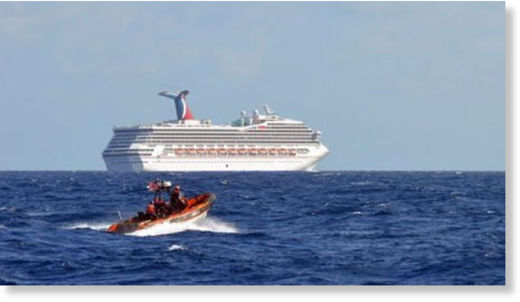 A cruise ship that lost power in the Gulf of Mexico, trapping more than 4,000 people aboard, had already suffered electrical problems as recently as a few weeks ago, its operator Carnival said Wednesday.
With the ship and its passengers still at sea being towed to safety, news of the Carnival Triumph's previous woes will increase pressure on the company, but a spokesman insisted the two sets of problems were unrelated.
"Carnival Triumph previously experienced an electrical issue with one of the ship's alternators," spokesman Vance Gulliksen told AFP.
"Repairs were conducted by the alternator supplier and were fully completed on February 2. There is no evidence at this time of any relationship between this previous issue and the fire that occurred on February 10."
Carnival said it has canceled several upcoming sailings of the stricken Triumph, which is being towed to a US port three days after finding itself adrift following Sunday's mishap.