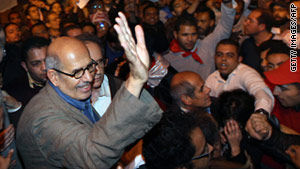 Egyptian opposition leader Mohamed ElBaradei addressed crowds of protesters in Cairo's Tahrir Square Sunday, an appearance that signaled a defiant gesture against the current government and military curfew.
Wading through demonstrators shouting, "we want honor for Egypt," ElBaradei, who is positioning himself as President Hosni Mubarak's leading opposition figure, eventually made it to a podium after being carried by supporters, and he joined them in singing Egypt's national anthem.
"I came today to participate ... in the lives of Egyptians," he told cheering protesters. "Today I look into the eyes of each one of you and everyone is different. Today you are an Egyptian demanding your rights and freedom, and what we started can never be pushed back. As we said, we have one main demand: the end of the regime and to start a new phase."