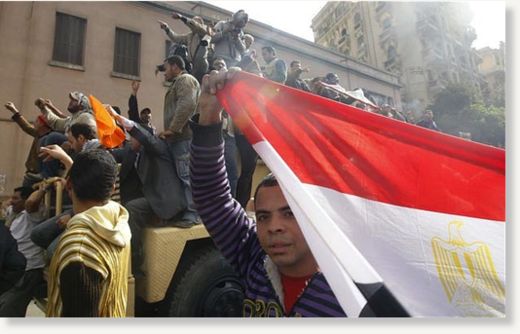 Political risk has returned with a vengeance. The first food revolutions of our Malthusian era have exposed the weak grip of authoritarian regimes in poor countries that import grain, whether in North Africa today or parts of Asia tomorrow.
If you insist on joining the emerging market party at this stage of the agflation blow-off, avoid countries with an accelerating gap between rich and poor. Cairo's EGX stock index has dropped 20pc in nine trading sessions.
Events have moved briskly since a Tunisian fruit vendor with a handcart set fire to himself six weeks ago, and in doing so lit the fuse that has detonated Egypt and threatens to topple the political order of the Maghreb, Yemen, and beyond.
As we sit glued to Al-Jazeera watching authority crumble in the cultural and political capital of the Arab world, exhilaration can turn quickly to foreboding.
This is nothing like the fall of the Berlin Wall. The triumph of secular democracy was hardly in doubt in central Europe. Whatever the mix of aspirations of those on the streets of Cairo, such uprisings are easy prey for tight-knit organizations - known in the revolutionary lexicon as Leninist vanguard parties.
In Egypt this means the Muslim Brotherhood, whether or not Nobel laureate Mohammed El Baradei ever served as figleaf. The Brotherhood is of course a different kettle of fish from Iran's Ayatollahs; and Turkey shows that an 'Islamic leaning' government can be part of the liberal world - though Turkish premier Recep Tayyip Erdogan once let slip that democracy was a tram "you ride until you arrive at your destination, then you step off."