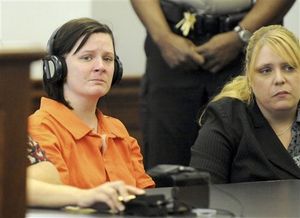 Bowling Green - A woman used a stun gun to subdue an expectant mother before killing her and cutting the baby boy from her body, a Kentucky State Police investigator testified Tuesday.
Detective Chad Winn, speaking during a preliminary hearing in Warren County District Court, said Kathy Michelle Coy told 21-year old Jamie Stice they were going shopping for baby supplies but took her instead to a wooded area with plans to kill her.
Coy, 33, has been charged with murder and kidnapping of a minor.
Winn testified that after attacking Stice with the stun gun, Coy slit Stice's throat and wrists, then cut the baby out of her abdomen. Winn said Coy eventually led investigators to Stice's body and gave details of the slaying.