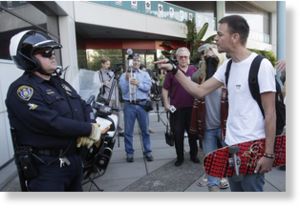 Oakland's police chief on Friday defended officers involved in a clash with anti-Wall Street protesters, saying they used what they believed to be the least amount of force possible to protect themselves.
Interim Chief Howard Jordan said he takes full responsibility for the actions of his officers, whom protesters accused of injuring an Iraq war veteran during the clash Tuesday night. Scott Olsen remained hospitalized in fair condition with a fractured skull after he was struck in the head by an object fired by police, fellow veterans said.
Jordan's comments came amid continued protests in large cities across California, including in Oakland where many re-established camp outside city hall despite police attempts at dismantling it. Across the bay in San Francisco, hundreds of demonstrators maintained a tent city in a public plaza, while 51 people were arrested in San Diego as police there cleared them from a park. Left-wing filmmaker Michael Moore was scheduled to appear at the Oakland protest later Friday.
Jordan said he and city staff had reached out to the protesters. He also promised that allegations of misconduct and excessive use of force would be thoroughly scrutinized, saying in a statement that he was "concerned about the injuries to protesters and officers alike; the decision to use any level of force is never taken lightly, and certainly was not in this situation."
Oakland officers did not suffer any serious injuries during the clash Tuesday, just "bangs and bruises from bottles and other objects that were thrown at and on them," said Cynthia Perkins, an assistant to the director at the police department.