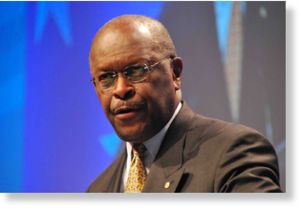 NBC News has confirmed that one woman received a settlement from the National Restaurant Association after complaining about inappropriate sexual conduct by Herman Cain.
NBC News is not disclosing the name of the woman nor characterizing who she is.
Cain denied the allegations, saying on FOX this morning he was "falsely accused." "I have never sexually harassed anyone, anyone," he said, "and absolutely, these are false accusations."
Despite being the chief executive officer of the National Restaurant Association, he said he was unaware of any settlement with the accusers, though he didn't deny it.
"If the restaurant association did a settlement, I wasn't even aware of it," he claimed, "and I hope it wasn't for much. If there was a settlement, it was handled by some of the other officers at the restaurant association."