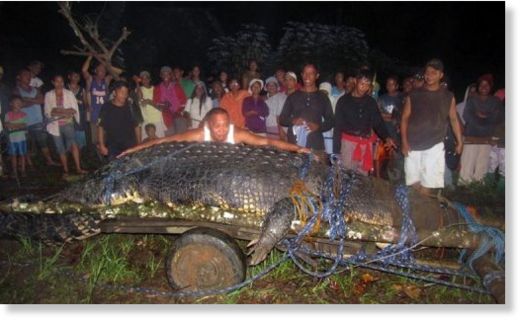 A monster 21-foot (6.4-metre) saltwater crocodile, believed to be the biggest ever captured, has been trapped in the southern Philippines after a spate of fatal attacks, officials said Tuesday.
The 1,075-kilogramme (2,370-pound) male is suspected of eating a farmer who went missing in July in the town of Bunawan, and of killing a 12-year-old girl whose head was bitten off two years ago, crocodile hunter Rollie Sumiller said.
The hunter examined the crocodile's stomach contents by forcing it to vomit after it was captured Saturday, but there was no trace of human remains or of several water buffaloes also reported missing by locals.
"The community was relieved," Sumiller said of the capture, but added: "We're not really sure if this is the man-eater, because there have been other sightings of other crocodiles in the area."
The local government of the impoverished town of 30,000 people has decided against putting down the reptile, and will instead build a nature park where it will go on display.