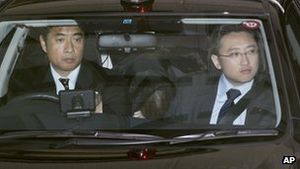 A former member of Japan's Aum Shinrikyo cult has turned himself in to police after nearly 17 years on the run, one of three remaining fugitives.
Japanese police said Makoto Hirata gave himself up at a police station in Tokyo just before midnight on New Year's Eve.
He had been in hiding since the cult's sarin gas attack on the Tokyo subway in 1995, which killed 13 people.
He was immediately arrested on suspicion of conspiring to kidnap the brother of a follower of the cult.