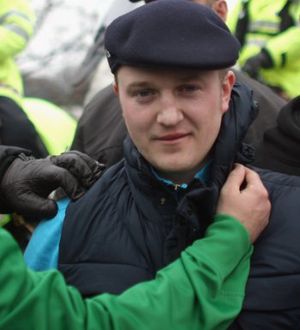 This is the controversial Luton Irishman behind the far right English Defence League who have been protesting against ethnic groups on Britain's streets in the aftermath of last month's Woolwich terrorist attack in London.
Founder Stephen Lennon has mobilised EDL members in violent anti-Islamic protests across the country, which has seen mosques and Muslim communities targeted, in the two weeks since Soldier Lee Rigby was killed.
Lennon had taken to Twitter to threaten to take on 'plastic paddies' at Wembley's England verses Ireland football friendly last Wednesday.
However, the threat was not followed through.
Lennon, who goes by the name Tommy Robinson, was born to a Dublin mother and Scottish father in Luton, where he formed the extremist group in 2009.
Although he classes himself as an Englishman, he has publicly claimed to be 'proud' of his Irish heritage, but messages on his Twitter feed reveal the opposite.
Posts found on Lennon's social networking account, show the second-generation Irishman regularly refutes his heritage and abuses those who claim he is Irish.
He has also posted a string of anti-Irish slurs and remarks.