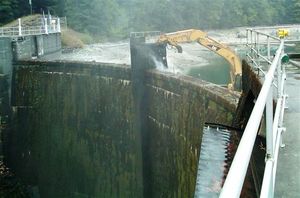 Ceremony with tribal blessing marks beginning of effort on Washington's Olympic Peninsula
Port Angeles, Washington - In an emotional ceremony Saturday marked by a tribal blessing and the use of a large piece of earthmoving equipment with a golden bucket, crews began to set a river free.
Interior Secretary Ken Salazar and a couple hundred other people gathered on the Elwha River near Port Angeles for the ceremony, marking the beginning of the biggest dam removal project in the United States.
Two dams on the Elwha River inside Olympic National Park are slowly being removed, with the goal of restoring runs of six species of salmon.
The ceremony Saturday included drumming, singing, dancing and a blessing by Lower Elwha Klallam Tribe elder Ben Charles Sr.