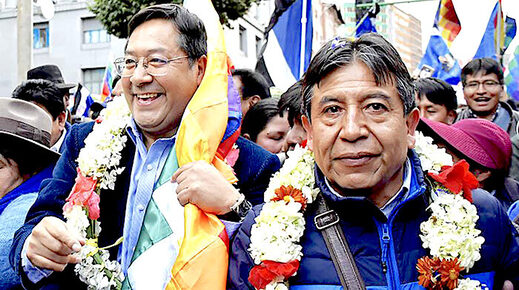 Bolivia went to the polls yesterday for the first election since the coup d'état in November 2019, that removed Evo Morales from the leadership and from the country and put the country under a western backed right wing coup government.
This coup was carried out for lithium,
as Morales was developing the Lithium sector and had made agreements to start the long road to manufacturing batteries and electric vehicles.
Elon Musk was accused of having had a hand in the coup
(Lithium prices rose sharply a day or so before) and his comment was:
"We will coup whoever we want. Get used to it!"
So for the past year, the notable members of Movement Towards Socialism (MAS), and IPSP, the party of Evo Morales, were in some cases massacred, persecuted and beaten. This did not stop them and
they demanded elections.
Having united into one Bloc, having inherited the gentle style of Morales and under new young, educated and committed leaders, they are now more powerful than ever before.
The intervention from the usual suspects could not break through, despite a self-appointed president, despite the persecution, despite US intervention, the MAS is back and even more powerful.
This is what a true majority of the people looks like.
Last night's exit polls show that Bolivia's Movement Towards Socialism (MAS)
won the presidency in the 1st round with 52.4% of the vote.
This is an even higher score than when Evo Morales won in 2019. According to exit polls data, 31.5% people voted for Carlos Mesa.