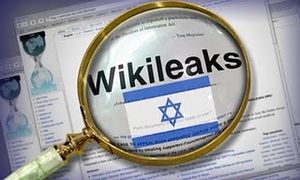 Does anyone still not know that 9/11 was done by Mossad and the CIA, along with various parties in certain government agencies and sundry? Most of us are not hackers and we don't deal with secret cables leaked by whistleblowers 'or' deliberately leaked
after being sanitized
in order to give the appearance of veracity. You would think that someone who is involved in intelligence information would have the intelligence and information to work out the obvious. I did it years ago, though the details are still fleshing themselves out, the names of the ones behind the attacks haven't changed and aren't likely to.
I measure a person's truthfulness and intelligence according to the way they define what happened on 9/11. Let me make a very clear and unequivocal statement. Everything changed because of 9/11. All the so-called secrets that Assange possesses are influenced by 9/11. Every war since 9/11 has come about, one way or another, because of 9/11. The whole concept of terrorist has been set and sold according to 9/11. 9/11 is the Big Kahuna, period.
I got a few emails yesterday after my posting about Assange and Foxman. Unfortunately with the death of logic and reason, a number of people were unable to compute that my posting was largely about Foxman's comment about pursuing those who tied Wiki-Leaks and Israel together. I wanted to be known as someone who did. That was the main thrust of my piece, not Assange's, questionably valuable information, of which I have yet to see anything useful or earth-shaking. Interestingly, the emails, along with comments from mostly, never before heard from, contributors, all used the same syntax, buzzwords and arguments. Is this coincidence? All of them were cut from the same cloth, all of them avoided the 9/11 commentary, given in cavalier fashion by media model, Assange. Here is what Assange said,
"I'm constantly annoyed that people are distracted by false conspiracies such as 9/11, when all around we provide evidence of real conspiracies, for war or mass financial fraud."