As the economy revs back to life, with
signs of hiring on the horizon
, the housing market is being left behind like Macaulay Culkin in
Home Alone
.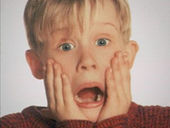 In the past few years, we've all been careful to choose our words carefully, not calling it a recession until it fit the technical definition and avoiding any inappropriate use of the "D" word - Depression.
Things were bad but the broader economy never reached Depression territory.
The housing market, on the other hand, just crossed that threshold.