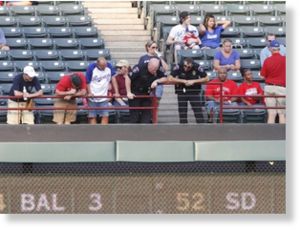 A man attending a Texas Rangers game with his young son died after falling out of the stands and about six metres to the ground while trying to catch a baseball tossed his way Thursday night, the Rangers and Arlington fire officials said.
Arlington Fire Department officials in a statement that another fan nearby tried unsuccessfully to grab the man to keep him from falling. They said the victim's son did not fall.
"We had a very tragic accident tonight and one of our fans lost their life reaching over the rail trying to get a ball," team president Nolan Ryan said. "As an organization, and as our team members and our staff, we're very heavy-hearted about this, and our thoughts and prayers go out to the family."
A very sombre Ryan didn't get into details about the accident or release the man's name.
Ronnie Hargis was sitting in the stands at Rangers Ballpark next to the victim. The men were talking to each other before the accident.
"He went straight down. I tried to grab him but I couldn't," Hargis said. "I tried to slow him down a little bit."
TV replays showed the man falling head-first and landing behind a 4.2-metre-high wall supporting a video board for replays and scores. The area where the man fell is out of sight from the field.