While fears have been largely dismissed, many still recommend minimal exposure to the rain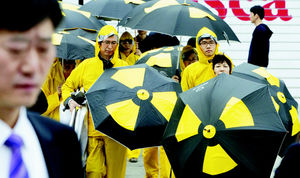 The Korea Institute of Nuclear Safety (KINS) and the Korea Meteorological Association (KMA) are causing confusion and unease with shifting statements on whether radioactive material from Japan's Fukushima nuclear plant will mix with rain and fall in South Korea, with heavy rain forecasted nationwide for Thursday.
The KMA forecasted Wednesday that due to a low pressure system, 20 to 70mm of rain would fall starting early morning Thursday through Friday nationwide. KINS President Yun Choul-ho held a press conference with KMA spokesman Kim Seung-bae at the Central Government Complex on Sejongno.
"According to the KMA's atmospheric models, there is no possibility that radioactive material released from the Fukushima nuclear plant would spread via the winds from the East China Sea to southwestern South Korea," said Kim. This would mean "radioactive rain" will not fall.
On Monday, however, KINS said during a press conference that its own models showed that minute amounts of radioactive material could spread into Korea's airspace on Thursday. They also showed a screen from their mock test. The KMA, too, also distributed a forecast that due to a high-pressure system over southern Japan, southwesterly air currents would drive rain clouds over the West Sea towards inland Korea on Wednesday or Thursday. Monday's press conference was held after a Norwegian atmospheric research institute released a prediction that radioactivity would spread over Korea around Thursday, and was interpreted as a belated acknowledgement by both the KINS and KMA that "radioactive rain" would fall.