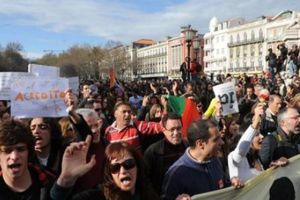 More than 300,000 people have taken to streets in Portugal's capital Lisbon and 10 other major cities to protest lack of job opportunities in their country.
An estimated 200,000 protesters in Lisbon crammed the wide Liberdade Avenue and the Rossio Square, carrying banners with slogans urging a policy change to reverse surging unemployment, precarious working conditions for young people and falling living standards.
Last year, Portugal reported a record unemployment rate of 10.8 percent.
In addition to Lisbon protesters, another 80,000 people demonstrated in Portugal's second largest city of Porto, and a Facebook appeal gathered 65,000 signatures in support of the move, LUSA news agency reported.