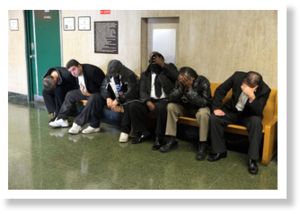 Shuttled women around in livery cabs: prosecutors
.
A father-and-son pimp team were busted for running a multimillion-a-year sex ring - branding women with degrading tattoos and employing livery car drivers to shuttle them around, according to an indictment from the Manhattan district attorney's office.
"This as not your typical father-and-son business," said
Police Commissioner Raymond Kelly
, whose department partnered with prosecutors to crush the ring.
Vincent George Sr.
("Vee), 55, of Queens taught his son Vincent George Jr. ("King Koby"), 33, of Allentown, Pa., the ways of the flesh trade over the last 10 years, prosecutors charge.
The pimp daddy and his pimp son set up a phony business, Grip Entertainment, to launder their illicit money.