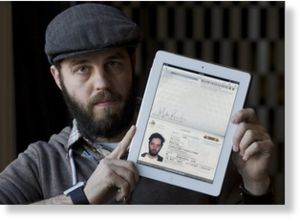 A Canadian man who forgot his passport at home discovered an unusual tool to help him get through U.S. Customs - his iPad.
Martin Reisch says a border officer let him cross into the United States from Quebec after he presented a scanned copy of his passport on the computer tablet and his driver's licence.
Reisch's entrance into the U.S. without a mandatory, hard copy travel document hints how, in some cases, stricter rules at the thickened American border may still have some flexibility in actual practice.
Canadians have had to present more than just a regular driver's licence at U.S. Customs for the last couple of years.
Reisch said he was about a half-an-hour drive from the Vermont border last week when he realized he had forgotten his passport at home.
He quickly remembered that a scanned copy of the document was stored on his iPad, and instead of turning his car around for the two-hour drive home, he decided to give it a shot.