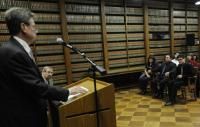 Two Denver police officers were fired this afternoon in connection with a
2009 beating
of 23-year-old man in Lower Downtown.
Officer Devin Sparks and Cpl. Randy Murr have both lost their jobs, Safety Manager Charley Garcia and Mayor Bill Vidal said during a press conference at City Hall this afternoon.
Sparks was caught on videotape throwing Michael DeHerrera to the ground as DeHerrera talked on a cellphone.
The video then shows Sparks repeatedly beating him with a department-issued sap, a piece of metal wrapped in leather.
The Denver district attorney's office reviewed the case and declined to file criminal charges.
Denver police internal affairs division then conducted its own investigation, which was sent to then-Safety Manager Ron Perea.