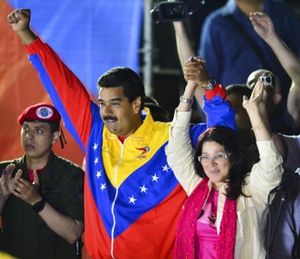 Maracaibo - Nicolas Maduro has won the Venezuelan presidential election with 50.66 percent of the vote against 49.07 percent for opposition candidate Henrique Capriles Radonski. Maduro gave a victory speech immediately after, while Capriles initially refused to recognize the results.
The "first bulletin" results were announced by the president of the National Electoral Council (CNE), Tibisay Lucena, at around 11:20 p.m. Venezuelan time, with 99.12 percent of the votes totaled, enough to give Maduro an irreversible victory.
Nicolas Maduro received a total of 7,505,338 votes, against 7,270,403 for opposition candidate Henrique Capriles, a difference of 234,935 votes. Total turnout was 78.71 percent of the electorate.
Given the closeness of the vote, Maduro's speech focused mostly on assuring the validity of his victory, and the reliability of the electoral body.
"If they want to do an audit, then do an audit. We have complete trust in our electoral body," he said from outside the presidential palace.