Whatsoever you do to the least of my brothers, that you do unto me...
- some guy, some place, some time long ago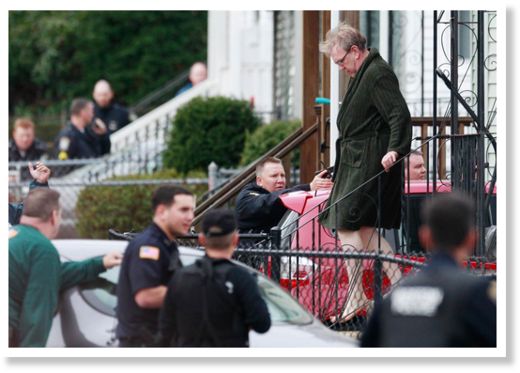 Don't bother reading this essay, it won't do any good. I mean it, stop reading now, there is no point, it's hopeless. There is nothing worth saying anymore.
All day yesterday the talking heads on the TV informed me that the entire city of Boston is "on lockdown" as enforcement officials search door to door for the one remaining "suspect" in the Marathon Bombings.
And like the obedient, traumatized robots they are, the good citizens of Boston just rolled over and complied. Grateful for the protection of their black-combat-gear-laden overlords, they accepted being harassed and corralled like sheep in their own homes.
Filled with the adrenaline of being directly involved in the center of this clearly manufactured crisis, they waited, trembling inside their bedrooms, not even dimly aware of how they were manipulated and played.
Seriously, how is it possible that people still buy this crap?
Ever wonder why scores of people numbly and willingly lined up for the gas chambers in World War II, without a shred of resistance, without even trying to fight back?
This is why.
This is what we've become.
A nation of slaves.
Blind, deaf, dumb and paralyzed with fear.