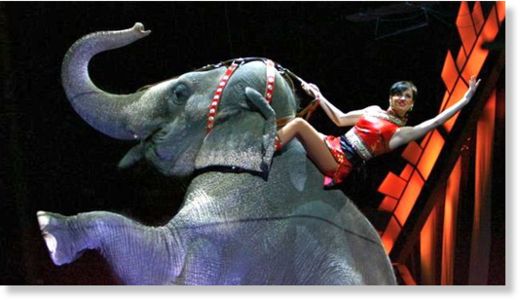 Travelling circuses in England will be banned from using wild animals from December 2015, the government announced on Tuesday, after a long campaign to end the practice.
Introducing a draft bill in parliament, junior environment minister Robert Ponsonby said circus operators had until then to adapt their shows and find new homes for their animals.
"This legislation will end the use of wild animals in travelling circuses in this country. It will also help ensure that our international reputation as a leading protector of animals continues into a new global era," he said.
Lawmakers voted two years ago to end the use of wild animals in circuses and animal rights groups have been pressing for a change, but ministers initially feared a legal challenge from operators.
"There is no place in today's society for wild animals to be used for our entertainment and we are absolutely delighted," said Peter Jones, president of the British Veterinary Association.
Prime Minister David Cameron's government has already introduced tough new regulations to safeguard animal welfare, and two circuses are currently licensed to use about 20 wild animals between them.