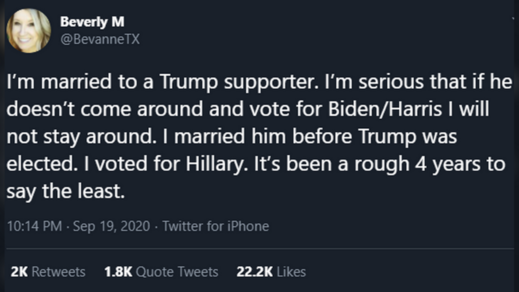 A Texas woman said she's so fed up with her husband's support for President Donald Trump that she will leave him if he doesn't vote for Democrat challenger Joe Biden - a reflection of political polarization in the MAGA era.
"I'm married to a Trump supporter," the woman, identified as Beverly M, said on Saturday on Twitter. "I'm serious that if he doesn't come around and vote for Biden-Harris, I will not stay around."
The woman identifies herself as a Black Lives Matter supporter on Twitter and said she moved to Texas from the Midwest in the 1980s. She said she married her husband before Trump was elected, and she voted for Hillary Clinton in 2016.
"It's been a rough four years, to say the least," she added.
Beverly M said that with so much at stake in the 2020 election, she considers Trump supporters to be selfish. "That's why I am angry at my husband," she said. "When I'm begging him to do this for our children... and for our future grandchildren and that doesn't matter to him, that's eye-opening."