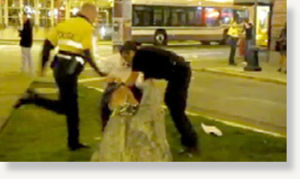 A Victoria police officer caught on video kneeing and kicking two men while they were being handcuffed during the break up of a downtown street fight will not face any charges.
B.C.'s Criminal Justice Branch said Friday it reviewed last spring's incident, including watching the video which was viewed by thousands of people on line, and concluded the officer was using legally permissible force to gain control of a dangerous and volatile situation.
"The visual images on the video showing the application of force are emotionally disturbing, however, in all the circumstances of the incident there is evidence that the officer was using force lawfully in order to gain control in an unstable and unsafe situation," said a statement from the Criminal Justice Branch.
The decision not to charge the officer is one of several incidents involving use of force allegations against Victoria police, including Const. George Chong, the brother of B.C. Liberal cabinet minister Ida Chong, who was charged with assault last July in a case in which a man was hurt.
Other incidents have included the tethering of a 15-year-old girl to a jail cell door for four hours, and a handcuffed man who was slammed to the jail floor from behind, causing brain damage.
Last fall, a police use-of-force report examining the brawling image of the Victoria Police Department and made 80 recommendations relating to use of force and jailhouse operations.