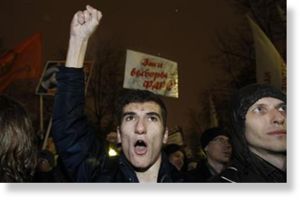 Several thousand people protested in central Moscow on Monday against what they said was a fraudulent parliamentary election, shouting "Revolution!" and calling for an end to Prime Minister Vladimir Putin's rule.
The protest, a day after an election in which Russians sharply reduced the parliamentary majority held by Putin's United Russia party, appeared to be one of the biggest opposition demonstrations in Russia in years.
Potesters initially gathered in the rain on a tree-lined boulevard where they had permission for a rally. They denounced the vote as shameful and shouted "Russia without Putin!"