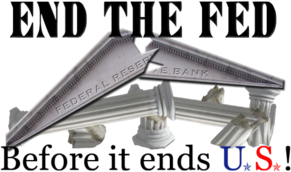 As the Super Committee failed to agree on a measly $1 trillion in budget cuts,
Bloomberg
recently
reported
yet another secret bank bailout totaling $7.7 trillion courtesy of the private Federal Reserve bank. This disclosure is in addition to the first-ever Congressional audit of the Fed that revealed a startling $
16 trillion in secret bailouts
.
This brings the grand total of previously unknown theft to $23.7 trillion
which, interestingly enough, is the exact figure Neil Barofsky, special inspector general for the Treasury's Troubled Asset Relief Program, estimated in July 2009.
As Americans are being told that they need to tighten their belts and that Congress must do the same or the country will fall into economic ruin, these private bank bailouts, nearly double the size of the national debt, are handed out without any benefit to the public.