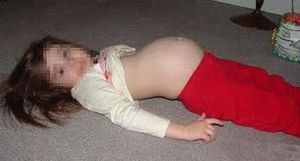 Country's laws prohibit abortion procedures for children under 12
A 10-year-old Mexican girl has given birth to a baby boy after a 31-week pregnancy, according to reports.
The premature infant, which weighed 3.3 pounds, was born by Caesarian section at the Women's Hospital in the city of Puebla and is in the intensive care unit recovering from pneumonia.
The young mother, who is from the nearby San Francisco Totimehuacan community, has returned home after the procedure but visits the baby every day to breastfeed, officials said.