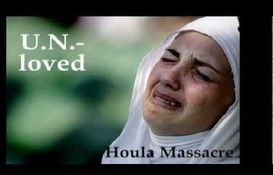 The Houla massacre is a turning point in the Syrian conflict. Supported by the accounts of UN observers, the Western public blames the Syrian army for the bloodbath. This version can be doubted based on reports from eye-witnesses, according to whom the civilians were killed by Sunni rebels.
The Houla massacre was a turning point in the Syrian drama. The worldwide outrage was great as 108 people, among them 49 children were killed in Houla on May 25. Calls for a military intervention to put an end to the bloodshed in Syria became louder and the violence in the country has unrelentingly increased ever since. Based on Arabic news channels and the UN observers visit on the next day, world opinion almost unanimously accuses the regular Syrian army and the regime-affiliated Shabiha for the mass murder.
The German daily
Frankfurter Allgemeine Zeitung
(FAZ) questioned this version on the basis of accounts from eye-witnesses. The newspaper had reported that the killed civilians were Alawites and Shiites. They were intentionally killed by armed Sunni insurgents in Taldou, a town in the plains of Houla, as violent clashes broke out between the regular Syrian army and units of the [so called] Free Syrian Army at checkpoints around the village. This account was taken up by many media outlets worldwide and rejected by many as incredible. Therefore four questions arise: Why does the world opinion so far follow another version? Why does the context of the civil war make this doubted version plausible? Why are the witnesses reliable? What other facts support this version?