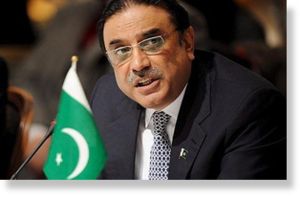 Pakistani President Asif Ali Zardari suffered a "mini-stroke" that led to his extended hospitalization in Dubai, but he is improving quickly and will return to his country within two weeks, a close associate and a government spokesman said Tuesday.
Zardari's health has been the subject of speculation and contradictory statements by government officials since he was rushed to Dubai last week. His trip triggered rumors he could be on the verge of resigning. Officials deny that.
The president's absence coincided with domestic political attacks against him over a memo delivered to U.S. officials asking Washington's help in reining in Pakistan's powerful military. It came also during a spike in tensions between Washington and Islamabad after NATO airstrikes killed 24 Pakistani soldiers on the Afghan border.
The associate, who spoke on condition of anonymity because of the sensitive nature of the matter, said that Zardari's diagnosis of a "mini-stroke" was made by the president's two physicians.
A "mini-stroke" is medically known as a transient ischemic attack, or TIA. It occurs when the blood supply to part of the brain is briefly interrupted, causing symptoms similar to a stroke but not as long-lasting, because with a TIA, the blood supply is restored.