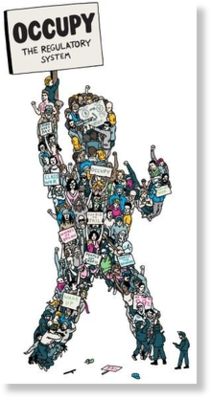 Occupy Wall Street has moved. Its new address: 60 Wall Street.
There, inside a soaring public atrium, dreadlocked teens trade shoulder massages near the evening meditation circle. A young man holds up a sign: "You're a Federal Reserve $lave." The dinnertime crowd buzzes over free plates of rice and beans while listening to an improvised, profanity-laden operetta about the evils of agro-giant Monsanto. But amid the din, there's a small group holding a quieter, and far wonkier, conversation.
"What are the restrictions? Does it let anyone call themselves a clearing agency? It seems like there's a rigorous definition, but maybe there's not," Caitlin Kline says. "What if all you're taking on is counterparty risk for all of these banks, but you don't ever take any other exposure? It seems to be covered by several exemptions."
Kline, a former Wall Street trader-turned-Occupier, is a member of
Occupy the SEC
, an offshoot of the large movement that has burrowed deep into the regulatory process. At this moment, she's trying to figure out if the drafting of the Volcker Rule - a provision of President Obama's Wall Street overhaul that would restrict commercial banks from making speculative investments that do not benefit their customers - is tight enough to keep banks in check.