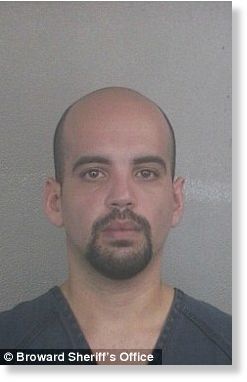 SA agent Nelson Santiago-Serrano charged in Florida
He allegedly admitted theft to police
Allegedly sold stolen goods online during shifts
The list of consumer complaints against the TSA over recent months may soon have to include theft, in addition to groping and racial profiling.
That's because a Transportation Security Administration worker has been charged with two counts of grand theft for allegedly stealing electronics out of passengers' luggage, authorities in Florida said Thursday.
According to the Broward County Sheriff's Office, Nelson Santiago-Serrano, 30, was caught by a Continental Airlines employee stealing an iPad from a suitcase in Fort Lauderdale-Hollywood International Airport's Terminal 1 on Monday.
Mr Santiago-Serrano was allegedly seen trying to stuff the device into his pants, reports the
Broward-Palm Beach New Times
.
Police say that after they arrested him on Monday, he admitted to stealing computers, GPS devices, video cameras, and other electronics from bags he was supposed to be screening.