Explosion tears apart Argana cafe in Marrakech's Jamaa el-Fna square, which is popular with foreign tourists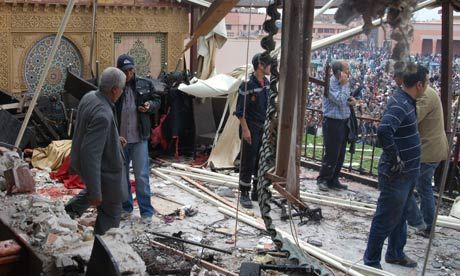 A suspected terrorist bomb attack in the Moroccan city of Marrakech has killed at least 14 people and injured 20 at a market square cafe popular with tourists. As many as 11 foreigners are believed to be among the dead with one report saying they include a French couple and a Briton.
The blast just before noon tore the facade off the two-storey Argana cafe, leaving awnings dangling. Bystanders dragged away bodies and tried to put out flames with fire extinguishers, witnesses said.
The interior ministry said there was evidence the blast was a "criminal act". The ministry later confirmed that the explosion was caused by a bomb and called it a terrorist attack.
A Moroccan government spokesman, Khalid Naciri, said that the dead came from different countries but did not say which ones. "We worked for more than an hour, maybe less, on the hypothesis that this could eventually be accidental. But initial results of the investigation confirm that we are confronted with a true criminal act," Naciri said in an interview with France-24 television.