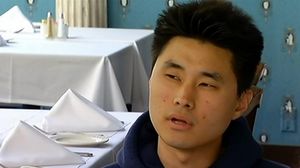 Daniel Chong, the 23-year-old student at UC San Diego who was left in a Drug Enforcement Agency (DEA) holding cell for five days without food or water, has filed a $20 million lawsuit against the agency,
according to NBC San Diego
.
"The deprivation of food and water for four and one-half days, while the person is handcuffed the entire time, constitutes torture under both international and domestic law," Chong's claim says. Senator Barbara Boxer (D-CA) has
asked Attorney General Eric Holder for a formal probe
.
"Given the seriousness of this incident, I urge you to personally ensure that the Department of Justice conducts a full and thorough investigation to find out what happened, who was responsible and what steps must be taken to make sure it never happens again," the senator wrote. "After the investigation is completed, I ask that you please provide me with the results and the actions the department will take to make sure those responsible are held accountable and that no one in DEA custody will ever again be forced to endure such treatment."