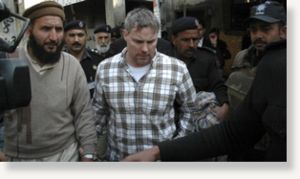 A Pakistani official says that a U.S. consulate employee held for the murder of two men is shielded by diplomatic immunity, according to Reuters.
"We will present all relevant laws and rules about immunity before the court and will plead that prima facie it is a case of diplomatic immunity. But it is for the court to decide," the official told Reuters Wednesday, on condition of anonymity.
Raymond Davis has been in custody since Jan. 27, saying he shot the two Pakistanis in Lahore in self-defense as they tried to rob him.
The shooting has caused protests in Pakistan, with many calling for him to be tried and not handed over to the U.S. The Taliban has threatened retaliation if he is handed back to the U.S.
Pakistan's former foreign minister said Wednesday that legal advisers told him Davis did not qualify for blanket diplomatic immunity.