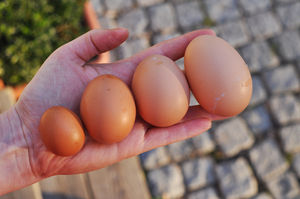 "A system of specialization requires the abdication to specialists of various competences and responsibilities that were once personal and universal. Thus, the average - one is tempted to say ideal - American citizen now consigns the problem of food production to agriculturalists and 'agribusinessmen,' the problem of health to doctors and sanitation experts, the problems of education to school teachers and educators, the problems of conservation to conservationists, and so on. This supposedly fortunate citizen is therefore left with only two concerns: making money and entertaining himself. He earns money, typically as a specialist, working an eight-hour day at a job for the quality or consequences of which somebody else - or, perhaps more typically, nobody else - will be responsible. And not surprisingly, since he can do so little else for himself, he is even unable to entertain himself, for there exists an enormous industry of exorbitantly expensive specialists whose purpose is to entertain him."
I suppose specialization
is a feature, and not a bug, of the modern, industrial economy. To run such a complex and industrial infrastructure as we have come to rely upon, we need millions of people carrying out very specific and specialized tasks. This infrastructure is made up of uncountable widgets and devices and roles that all have their own particularity and that, thus, require their own particular machines or trained humans to be run and maintained. Broad classifications of generalized and necessary economic activity have been broken apart and splintered into much more specific niches, and then have been absorbed as a fraction into a far more sprawling beast we might refer to as the discretionary economy. In today's industrial economy, the necessities of life - food, water, shelter, a clean and functioning environment, community - are now almost an afterthought to the vast and consuming industry of non-necessity: distraction, destruction, profit-driven specialization, a massaging of and attentiveness to human ego both impressive and horrifying. We have discovered an infinite number of economic niches driven not by the particularities of place and community - which would be the basis of niches in a functioning and sane economy - but on the basis of catering to the human ego by creating an infinite number of variations on conformity so that we might convince everyone that, no matter how much they immerse and then lose themselves in the base homogeneity of our culture, they truly are a unique human being, as proven by their particular combination of iPhone apps, or which of the many Nabisco snacks they prefer, or which Anheuser-Busch-owned beer they drink.
Of course, as we've created this insanely complex yet oddly generic economy and industrial base, we've come to worship at the alter of specialization. We know that we need years upon years of education and training so that we may be successful in today's high tech, globalized economy. We know that to seize the bright future that is rightfully ours, we must *insert cliche here* so that *tribal term here* may compete in today's *overtly positive economic buzzword here*. And we know this because we're told it again and again, each time with slightly varying terms, and always emerging from the mouth of a respected "leader" or, even better, a certified expert.