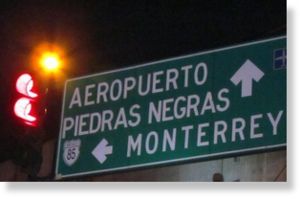 The northeast Mexico border city of Nuevo Laredo saw a brutal day of gang violence, with 14 headless bodies found stuffed in a vehicle and nine others hanging from a bridge.
Fourteen heads believed to correspond to the decapitated bodies were also found in ice boxes outside the city hall on Friday, according to local security forces in the city of almost 400,000 inhabitants across the border from Laredo, Texas.
Horrified motorists earlier encountered the blood-stained bodies of four women and five men hanging off a bridge, alongside an apparent message from a drug gang.
The grim spectacles were extreme even for Nuevo Laredo and the northeastern state of Tamaulipas, which have seen some of the most gruesome episodes in Mexico's brutal five-and-a-half year drug war so far.
State security forces and soldiers cordoned off the areas where the bodies were found and gave no immediate comment.