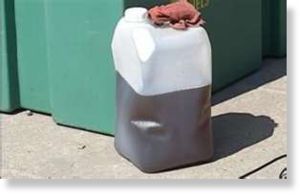 What are these guys really up to?
Under the guise of a public health program, the Chinese government is currently engaged in a crackdown of the gutter oil (地沟油) industry. However, as more information leaks out, troubling questions are being asked about the real reasons why used cooking oil is being seized.
A recent report in the
Beijing News
(translation courtesy of
Global Times
) relates the official story:
Local police authorities in Zhejiang, Shandong, and Henan provinces arrested 32 suspects for making and selling illegal cooking oil in mid-July. The police found hundreds of tons of illegal cooking oil, collected from oil already used in restaurants and scraped from the gutters. The nationwide crackdown reveals that the processing of "gutter oil" has formed an industrial chain.

The police operation was an unprecedented success as it seized colossal amounts of illegal oil and many suspects. More importantly, it is the first time for the police to dismantle a nationwide illegal cooking oil ring, which confirms the rumors that many restaurants in China use gutter oil to cook food.