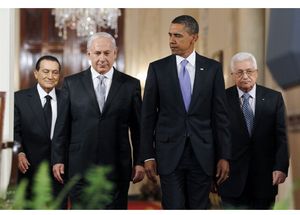 So Omar "Sheik al-Torture" Suleiman has warned that the only alternative to dialogue with the opposition is "a coup". The suave United States Central Intelligence Agency point man for extraordinary renditions to Egypt, now Washington-anointed "orderly transition" conductor, may be more versed in electroshocks than onanism; otherwise he would have realized that a military dictatorship toppling itself still ends up as a military dictatorship.
Yet maybe that's exactly what he meant. Suleiman said protests are "very dangerous" - not so subtly implying the interference of hidden agendas by foreign journalists; a subversive coalition of the US, Israel, Hamas, Hezbollah, Iran and al-Jazeera; the Muslim Brotherhood (MB); and all of the above (and all duly evoked by the regime).
Osama Saraya, editor-in-chief of the pro-government newspaper
al-Ahram
, who was there when Suleiman uttered his sinister warnings, is assured he meant not only a military coup, but an Islamist coup as well.