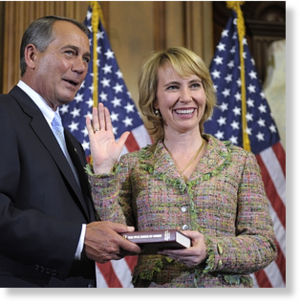 Doctors helping Rep. Gabrielle Giffords recover from a gunshot wound to the head talk enthusiastically about her progress, saying some of the greatest moments come when her personality shines through with big grins and excitement over her rehabilitation milestones.
"That's Gabby. It's a constant, wonderful thing," said Dr. Dong Kim, a neuroscientist.
Doctors provided the new details about Giffords' condition Friday, saying she now can talk in short sentences, and can walk with some help. She also knows that she was shot.
Previously, tidbits of information came from friends and family, but the doctors, those with the understanding and knowledge of what each setback and step forward means for long-term recovery, remained tight-lipped.
They gave their first official update since she began intensive rehabilitation in Houston on Jan. 26.
Kim and two other members of her medical team described several breakthroughs in Giffords' recovery from her brain injury, saying she has made "leaps and bounds."
He breathing tube was removed last week, a "fist-pump" moment, said Dr. Imoigele Aisiku, a neurosurgeon. She also can express desires, such as "I'm tired. I want to go to bed."