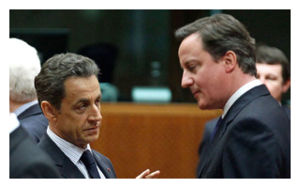 Nicolas Sarkozy has called for targeted air strikes against Muammar Gaddafi's regime if his forces use chemical weapons or launch air strikes against civilians.
As the EU foreign policy chief, Lady Ashton, warned that a no-fly zone could risk civilian lives in Libya, the French president told an emergency EU summit in Brussels that air strikes may soon be justified.
"The strikes would be solely of a defensive nature if Mr Gaddafi makes use of chemical weapons or air strikes against non-violent protesters," Sarkozy said. The French president qualified his remarks by saying he had many reservations about military intervention in Libya "because Arab revolutions belong to Arabs".