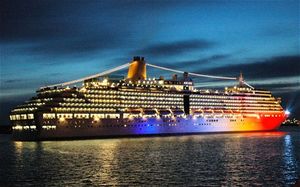 Elderly passengers on board a luxury cruise have criticised US immigration officials after they endured a seven-hour security check.
It was billed as a chance to taste the "glitz and glamour" of Hollywood or enjoy VIP treatment in some of the most exclusive shopping areas in the world.
But when a group of 2,000 elderly British cruise ship passengers docked at Los Angeles for a short stop-off during a five-star cruise around America it was, in the words of one of them, more like arriving at Guantanamo Bay.
During their £10,000, two-and-a-half month "Alaska Adventure" tour from the Arctic to the Caribbean, the passengers on the luxury P&O liner
Arcadia
had become more than accustomed to passing US immigration with little formality.
By the time they docked at Los Angeles on May 26, for a one-day visit it was their 10th stop on US soil.