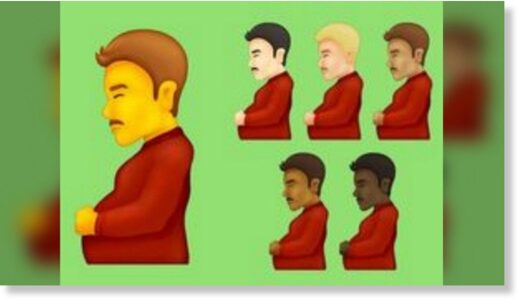 The creative geniuses behind the emojis we use every day have released a slew of new designs. The new emojis include a gender-neutral "person with crown," interracial handshakes, and, weirdly, a mustached "pregnant man."
The latest batch of emojis that could be hitting smartphone screens soon were
revealed
on Thursday, and they include some head-scratching choices: an androgynous "person with crown" as an alternative to the gendered "prince" or "princess" emojis, 15 new interracial handshake combinations, a gender-neutral "pregnant person," and, most confusingly, a "pregnant man" with a mustache.
The inclusion of a pregnant man is
not a joke
, nor is it a reference to the classic Arnold Schwarzenegger comedy 'Junior'. Instead, Emojipedia - a member of the Unicode Consortium responsible for creating and releasing new emojis - said the pregnant man was included
to "recognize that pregnancy is possible for some transgender men and non-binary people."