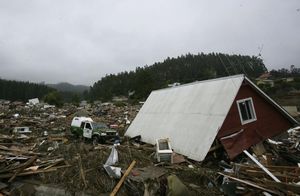 Around 3,000 people whose coastal town was leveled by Chile's massive earthquake and tsunami one year ago still live in squalid conditions that some compare to a "concentration camp."
In El Molino camp, some 450 temporary homes line streets of rubble, with no running water and shared makeshift bathrooms.
Residents lost everything when the nearby town of Dichato on the central coast was razed by the giant quake -- measuring 8.8 on the moment magnitude scale -- and subsequent tsunami on February 27, 2010.
Jimena Toledo, a community leader, regularly visits inhabitants of the wooden shacks, stepping over trash and other debris to walk down the streets, which are regularly flooded with mud during the winter months.
"Life in the village is bad, bitter, and ugly. I think it's like a concentration camp. People shut themselves in their homes at nine o'clock at night and that's it," Toledo told AFP.
"It wasn't like that before... we went out."
The government set up the camp, which is one of Chile's largest, three weeks after the quake, renting the land from a forestry company.
Almost all the former residents of Dichato now live there after the destruction of around 80 percent of their fishing town, which was once popular with tourists. Twenty-six people died there.
"Few people go to Dichato. Although they don't want to believe it, this is a new town," Toledo said of the camp.
A fruit and vegetable market takes place several days of the week, and many people have set up stalls selling basic goods.
Another 106 temporary villages sprung up after the quake to house the more than 4,000 families worst affected by the tragedy, which left 524 people dead and at least 31 missing, as well as 30 billion dollars in losses.