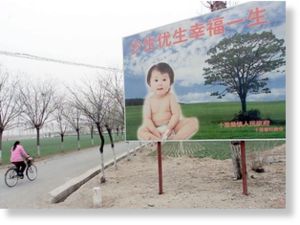 Chinese authorities confirmed Thursday that a woman was forced to abort seven months into her pregnancy, several days after her plight came to light when images of her baby's corpse were posted online.
Rights groups have blamed authorities in north China's Shaanxi province for forcing Feng Jianmei to abort her pregnancy because she failed to pay a hefty fine for exceeding China's strict "one-child" population control policy.
The Shaanxi provincial government said in a statement that a preliminary probe had confirmed the case was "basically true", and the investigators have recommended action be taken against the perpetrators.
"This is a serious violation of the National Population and Family Planning Commission's policies, jeopardises the population control work and has caused uneasiness in society," the provincial government said on its website.
The government did not pinpoint exactly who the perpetrators were, but vowed to avoid a repeat of such a case, which it said was against regulations in effect since 2001 banning late-term abortions.