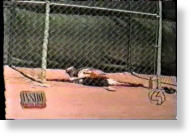 Salt Lake City, Utah - Hundreds of parents claim a group of boarding schools tortured their children: locked them in dog cages, forced them to lie in feces and eat vomit, masturbated them and denied the troubled teens any religion "except for the Mormon faith."
The Utah-based World Wide Association Of Specialty Programs and Schools and its owners - Robert Lichfield, Brent Facer and Ken Kay - went to great lengths to hide the "torture," which began in the mid-1990s and continued for a decade, the 357 plaintiffs claim in Salt Lake County Court.
The plaintiffs say that 59 schools and owners tied to the company "jointly promoted, advertised, and marketed defendants' residential boarding schools as a place where children with problems could get an education while receiving instruction and direction in behavior modification for emotional growth and personal development."