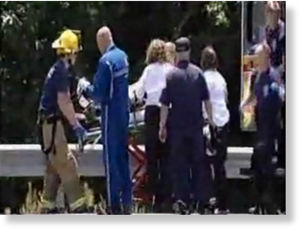 An off-duty county sheriff's deputy killed his ex-wife and shot a state trooper before he was wounded during a bloody Memorial Day rampage in Roanoke, Virginia.
The chaos began when Jonathan Agee shot his former wife Jennifer at a Sheetz convenience store parking lot, WSLS 10 reported.
After he drove away from the scene, police issued an alert with information about his vehicle and an advisory to be on the lookout for him. Shortly thereafter, Sgt. Matt Brannock spotted a car fitting the description and followed it, a police spokesman said.
As Brannock pulled up beside Agee on the highway exit ramp, Agee began firing at the officer, hitting him and causing him to take cover.