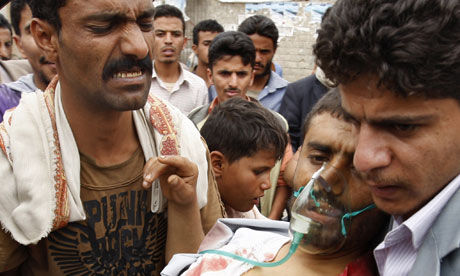 The crisis engulfing Yemen deepened on Wednesday with dozens of people killed as President Ali Abdullah Saleh reinforced his troops after heavy clashes with gunmen loyal to an influential tribal leader.
Overnight street battles left at least 41 people dead, some trapped in burning buildings. Fighting raged until dawn as presidential guard units shelled the headquarters of an army brigade responsible for protecting government institutions.
Arab embassies were said to be evacuating their staff and the few remaining western residents were being advised to leave urgently. The Foreign Office is urging all Britons to leave while flights are still available in a situation diplomats described as "worse than Libya."
Comment: It's "worse than Libya" because unlike in the Mediterranean country, Yemen's government is actually killing civilians by violently suppressing dissent. Yet there are no warships lined up to launch cruise missiles at this leader's residence. Why is that?